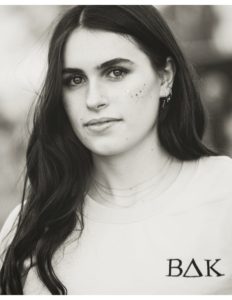 Congratulations to AMPA student Shea Hanke for being selected to attend GRAMMY® Camp under the auspices of the GRAMMY® Museum to study music business. 88 students from 24 different states were selected to attend the program, which will be held at the University of Southern California Thornton School of Music. Shea is currently a sophomore in AMPA at Hamilton High School. Her application included an essay and video statement as well as a phone interview. She currently a guitar major who has also studied keyboards, music production technology, and is part of Make Waves Records.
"GRAMMY Camp is one of the most immersive summer camps for high school students interested in a career in music," said Neil Portnow, President/CEO of the Recording Academy and Chair of the GRAMMY Museum Board. "The program gives young people the opportunity to study with music industry professionals—including some GRAMMY®-winning creators—and to collaborate with their peers, resulting in a genuine learning experience about life in the music industry."
GRAMMY Camp Los Angeles offers selected high school students an interactive five-day nonresidential summer music experience. Focusing on all aspects of commercial music, this unique opportunity provides instruction by industry professionals in an immersive, creative environment with cutting-edge technology in professional facilities. The program features eight music career tracks: Audio Engineering; Electronic Music Production; Music Business; Music Journalism; Songwriting; Video Production & Motion Graphics; Vocal Performance; and Instrumental Performance. All tracks culminate in media projects, recordings, and/or performances.
Applications for GRAMMY Camp 2019 will be available online in September at www.grammyintheschools.com.
(Visited 539 times, 1 visits today)