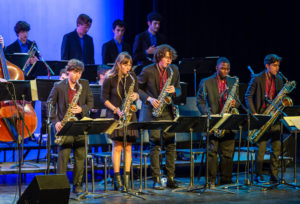 Jazz Ensemble A finished in 1st place in the season's closing competition at SuperJazz at the Ranch at West Ranch High School. They were awarded $700 from D'addario, makers of woodwind reeds and strings for guitar and orchestral instruments. AMPA student William Brandt on alto sax was the festival's most outstanding soloist winning a scholarship to the Brubeck Institute's Summer Camp.
View photos, courtesy of parent Ken Brown.
On Friday, May 18, 2018, the pit orchestra from Guys and Dolls received a 2018 Jerry Herman Award nomination. The Jerry Herman Awards will be announced June 4th, 2018.
(Visited 737 times, 1 visits today)